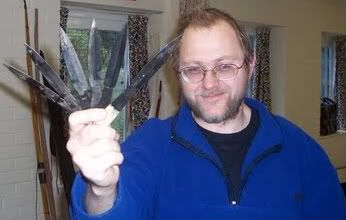 December 2010 was a sad month for QUB Dragonslayers: we learned of the untimely death of one of the society's founding members Alistair "Al" Darragh.
Al was always a familiar and enthusiastic member of local Sci-Fi and Gaming community in Belfast, and constantly helped to promote and run conventions around the UK. He was a familiar face to those who have attended Q-Con and Mecon and to those who remember his time in QUB Dragonslayers and QUB Sci-Fi.
Q-Con XVIII winner, Andy from Beasts of War, receiving the Al Darragh Shield at the closing ceremony
Al was a prolific writer of scenarios for the Call of Cthulhu RPG and produced many legendary casual and competition games for previous Q-Con events.
At Q-Con XVIII, Dragonslayers introduced the "Al Darragh Call of Cthulhu Memorial Shield". With many thanks to Al's widow Joanne, we are happy to announce its return for Q-Con XXI. As with previous years, the Al Darragh Memorial Shield will be presented to the winner of a special Call of Cthulhu competition game.
Details of this year's Al Darragh Memorial Shield scenario are in the RPG blurbs and timetable.
The Al Darragh Memorial Shield

Last Updated:
Wednesday, June 18, 2014 - 18:23